Standard RAS Water Treatment Container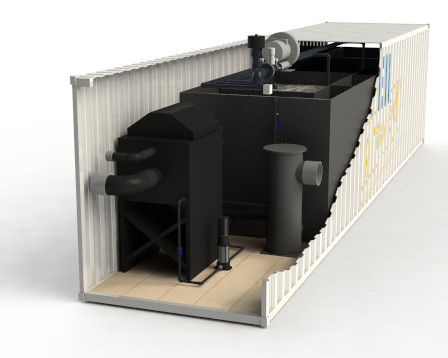 RAS-Container – made by Water - proved
Our RAS containers can be used for a wide range of fish species and farms in the most diverse installations.
The product selection of the basins is various.
With a small amount of work on site and a speedy installation
we can increase your production quickly and at an attractive price by using RAS technology.
Specifications:
Daily feeding: 176 kg (34% RP at 28°C)
Waterflow: 190 m3/h
Exchange water: Up to 2,5 m3/h
Connected power: 11,57 kW
Energy consumption: 10,47 kW
Connections: 315 mm inlet and outlet + 110 mm backwash pump and water exchange
Dimension LxWxH: 2,5 m x 12,5 m x 3,2 m
---
The Standard RAS Container includes:
1 drum filter and backwash pump
1 pump for the waterflow towards the biofilters
3 Biofilters filled with Biomedia
1 blower for the aeration of the biofilters
1 recirculation pump towards the fish tank
1 extractor fan
The internal pipes setup
1 Electrical cabinet + the electrical installation
Biofilter Start-up products