Design and construction of fish farms
WATER - proved designs and constructs landbased fish farms. No matter if you want to work your farm as a Recirculating Aquaculture System (RAS) or a Flow Through System, we can do it!
We offer you individually designed RAS or Flow Through systems, providing you highest benefits.
WATER - proved does not work with standardized farm modules but finds the best solution for your site. The design is done completely in house by our aquaculture engineers using state of the art 3d design software. This optimizes the cooperation with our customers and suppliers and gives you the best possible fish farming solution.
Besides turn key systems we also provide parts, equipment and components for your fish farm: oxygenation, biofilter, drumfilter, monitoring, feeding, pumps and many more.
We are only sourcing well proven material, all our suppliers have great experience in aquaculture.
We offer 24/7 service for all our equipment and farms.
---
Recirculating Aquaculture Systems (RAS)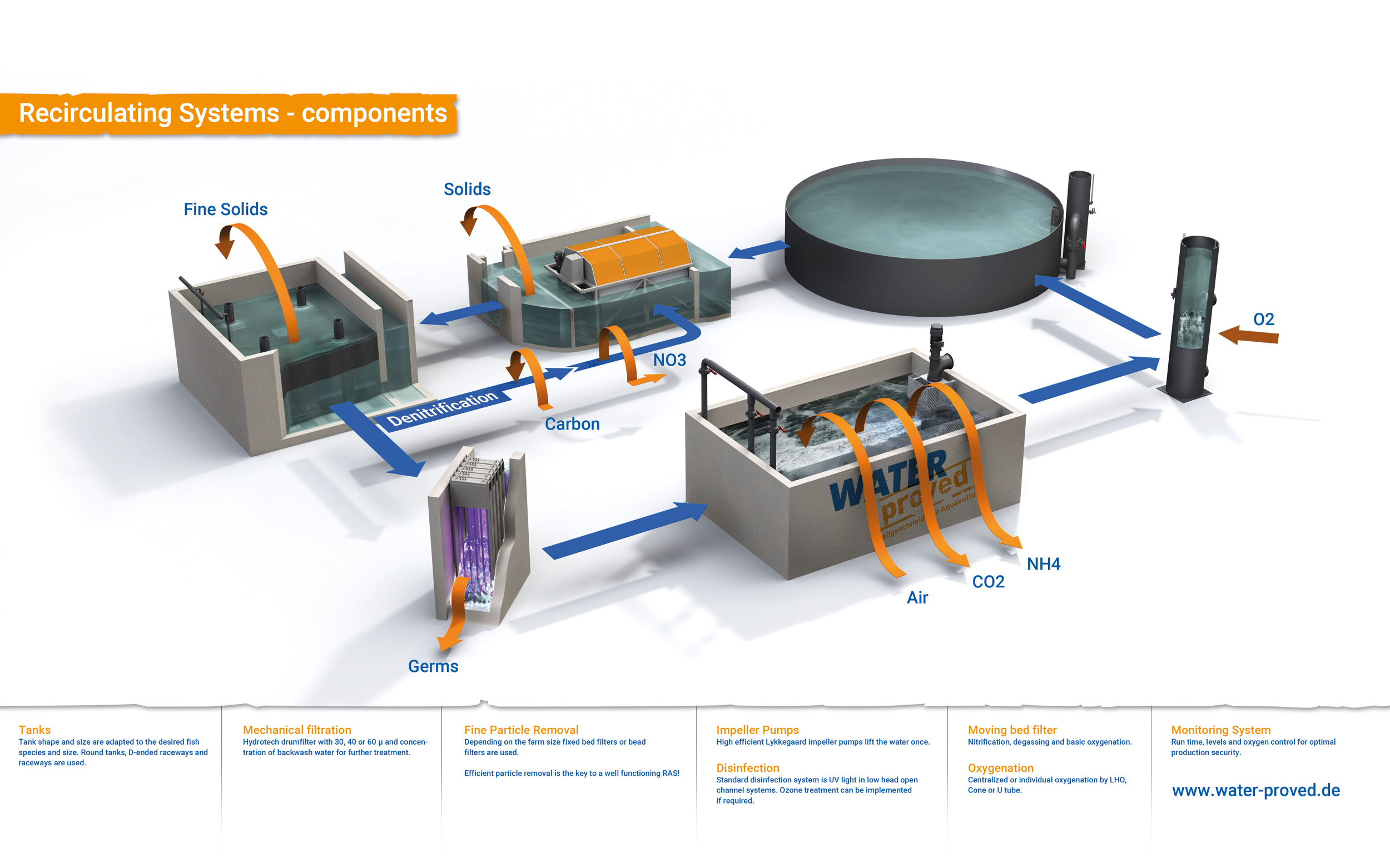 Recirculating Aquaculture Systems offer optimal growth conditions all year round. Stock is protected from predators and pathogens and water quality and temperature is continuously monitored and adjusted.
RAS from WATER - proved can be used as grow out and hatchery facilities.
Our systems are used for a large variety of species, including Trout, Char, Salmon, Pike Perch, Perch, Tilapia, Shrimp, Catfish and Carp.
Every system is designed exclusively for your site. That is the only way to achieve best production results with optimal use of resources. It also makes the use of existing buildings very easy.
For RAS we offer:
Design of turn key systems
Set up of turn key systems
Design and set up of single components:

Tanks
Drum filters
Fixed bed filters
Moving bed filters
Denitrification
Oxygenation
UV disinfection
Ozone disinfection
Monitoring systems
Feeding
---
Flow Through Systems
Flow Through systems have a significantly higher water demand than RAS. Thats why they are only used for Salmonid species here in middle Europe.
According to the site conditions, water can be used several times anyway. Drumfilters are used and sometimes biological filters are installed to purify the effluent water or recirculate part of the water.
For Flow Through systems we offer:
Design of the farm, including drum filters, oxygenation, fish handling and effluent water treatment
Supply and installation of components like filters, oxygenators, etc.
Farm monitoring and SCADA systems
---